Guest Post: A Soldier's Perspective on Human Rights and UDHR
When I started the One Day for Human Rights campaign, I made a number of badges for different categories of people that I thought people in my social networks would use to promote this campaign.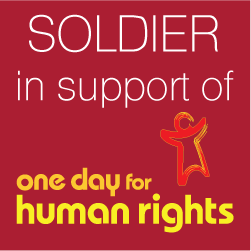 One day I received an e-mail from Lee Kemp – a man who was asking me if I can customize one of these badges for him, because he wanted to put it on his blog.  What was special about his request was for the badge to say "Soldier in Support of Human Rights".
In his request, he wrote "but as a former soldier with a strong belief in human rights I know that the vast majority of my former colleagues do as well.
I don't believe that being a soldier excludes you from humanitarian ideals, despite the press to this effect."
That got me thinking of the stereotyping that soldiers are being exposed to these days, due to the wars in Iraq, Bosnia, Kosovo and such. Lee was obviously very conscious about this phenomenon. A lot of questions popped in my head, and wanted to know more about his stance on Human Rights, so I asked him to write a guest post for One Day for Human Rights.
He accepted, and I am very happy he did, because he wrote what I was hoping and needed to hear: the point of view of a humanitarian soldier! Sometimes we get wrapped up in stereotypes created by mass-media and society, and we forget to listen to the 'other' side. Therefore I am going to ask you to put your judgmental views aside, and read Lee's article with an open mind and heart!
LEE KEMP: 'A SOLDIER'S PERSPECTIVE'
"I accepted the kind invitation to write a blog post on here because I didn't know whether people might be surprised to find that the Universal Declaration of Human Rights is something that soldiers believe in, let alone fight for. So I wanted to take the opportunity to share some thoughts.
There's a group on Facebook called "Soldiers are not Heroes". Their position is a simple one; that you do not become a hero simply by donning the uniform of your country's armed services. As a former soldier with operational experience in Bosnia, Kosovo and Afghanistan I would probably agree with that. It takes a little bit more. But where my beliefs part company with theirs is when they go on to describe soldiers as "mindless killer sheep" who are required to "put their conscience in a lockbox". The implication is not that soldiers don't have a conscience, rather that they are born with a superhuman ability to ignore it. I dispute this because I, like every soldier I have known, have a fundamental belief in the "equal and inalienable rights of all members of the human family". That belief doesn't sit alongside being a mindless killer.
As a British soldier you do not, indeed you cannot devolve responsibility for your actions to a third party. You are required to act at all times within the law. Whether you are on warfighting operations like Iraq and Afghanistan, or peacekeeping operations like Bosnia, Kosovo or Sierra Leone, your actions and your inactions are governed by the Law of Armed Conflict; theft, rape and murder are judged as harshly as they would be elsewhere. British soldiers undergo mandatory training and testing on the Law of Armed Conflict twice a year and always before operational deployment. The training is always delivered by experienced soldiers and the unofficial mantra is always this; "if you fuck this up, don't think for a moment the army will protect you. You're on your own".
The reason Britain embarks on any peacekeeping or warfighting operation is to uphold the human rights of others'. Yes, there are times when the issue is more complex. If for you Iraq was about oil, then for me it was about the 500,000 Iraqi children under 5 who died as a result of UN sanctions. If you think it was a crime to intervene in Afghanistan, I think it was a crime not to intervene in Rwanda. If you think that as a soldier you get your "conscience put in a lockbox" then you assume that soldiers are unaffected by the actions they witness. In that case I would ask you to think of my friend Donny who killed himself after developing Post Traumatic Stress Disorder in Bosnia. Or think of the 4 American soldiers on active service killing themselves every week. If, even now, you  think that a soldier is a mindless killing machine without regard for people, then the 18 young, male veterans killing themselves in the U.S. every day won't change your mind either. If soldiers didn't care about the rights of others', then it wouldn't matter what they saw.
The most important word in the Universal Declaration of Human Rights is the first one. This is something that soldiers support. Otherwise they wouldn't be soldiers."
_____________________________
Please feel free to leave comments for Lee, and your opinion about his stance of a soldier for Human Rights!   You can also contact him on his website: http://www.leekemp.net/
Thank you,
Anca
Tags: Afghanistan, Bosnia, human rights, Iraq, Kosovo, Post Traumatic Stress Disorder, Rwanda, soldier, Universal Declaration of Human Rights, war
4 Responses to "Guest Post: A Soldier's Perspective on Human Rights and UDHR"